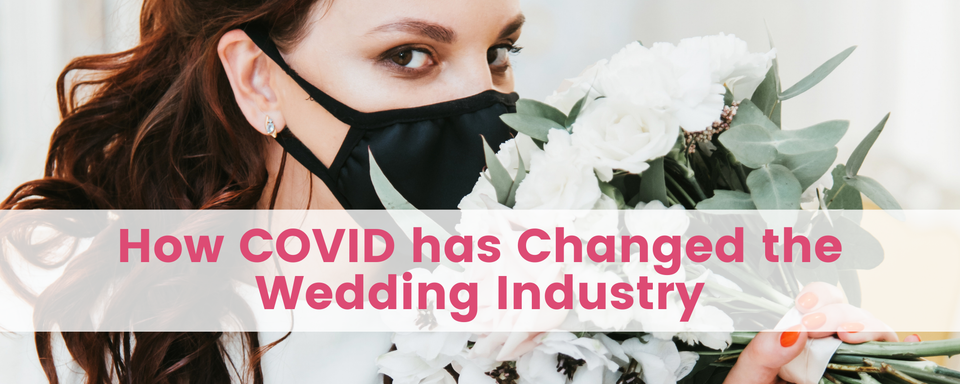 Covid has taken its toll on most industries. The wedding industry has been very difficult for everyone involved, from caterers to brides and photographers to dressmakers.

For so many brides, their wedding day is an event to be remembered. But, with a global pandemic, it's had to be drastically changed. Gone are the big wedding parties with family and friends.

But, the pandemic remains, and people are still going to get married. They just need to make some changes, but there is no reason why you still can't have your dream wedding.

Getting Married During a Global Pandemic

Covid has hit everyone in one way or another. Most people are working from home, and often, working for less income. But, you can still plan a fantastic wedding, for less.

Venues

Luckily, we seem to have moved past the 'virtual' stage of weddings, but that doesn't mean you can have a full-blown ballroom full of your friends and family.

Choose a larger space for fewer people. Most reputable places may require masks and proof of vaccination, so it is very important that all your wedding party and guests are aware of this.

You can also choose an outdoor venue. Use your own home or someone else's you know that will have the space you need for the ceremony and the reception. Setting up tables under a wedding tent can be ideal.

You can choose something a bit more unique, as well. If you and your spouse-to-be have a special interest, then try to make the day unique. If it requires a location, you can still invite guests virtually, or record it to send to them.

Catering and Other Services

With your decor, invitations, the band or DJ, and the catering can all be ordered online. Most people were leaning toward this anyhow, pre-pandemic. It's very easy and you can see the finished product before it's even finished.

The caterers can send samples over to you or you may be able to do curbside pick-up for your food items. It's a great way to get it all taken care of without needing to adhere to various restrictions.

Order all your flowers and decorations online to be delivered. Again, this is something people have already been doing for many years now, anyhow. You can rent tables, hire a DJ, and communicate with everyone online to save time and money.

If masks are still required where you live, consider getting custom-made masks for your entire wedding party and guests. You can have them printed with your names or date, or both, and they can become a keepsake. Get them made in your theme colours.

The Dress

Sipping champagne and trying on dresses may not be possible, but you can still get a fabulous dress. You can order your dream dress online and have it shipped directly to you.  Ask around for a reputable wedding dress seamstress in your area for any alterations the dress may need.  PRO TIP: Avoid bridal salons as they will be your most expensive options for alterations.

You can also get a custom-made dress online, as well. Most of us don't fall in love with the first dress we see, but we very often fall in love with certain aspects of it.

Wedding dress sites like Smarter Bridal will make you that perfect dress, either from scratch or from the ideas you see from their wedding dress vault. You send in your measurements, they make the dress, and you can see pictures of it before they send it over.

It's a great idea and will save you hundreds, if not thousands of dollars on your wedding dress. It saves you from having to keep returning to the shop for fittings, alterations, and changes. You can still get your custom-made dress for your wedding, for much less.

Back to the popping of champagne, we love the idea of throwing a small gathering with your besties aka bridal party and hosting a dress reveal party.  Trust us, everyone will be thankful to avoid the whole awkwardness of the person thinking they actually have a say in your dream wedding dress.  People's opinions will quickly be forgotten when they see you in your wedding dress.

Dream Weddings Can Still Happen

People have had to change the way they get married, but they are still getting married, nonetheless. Every state will have different regulations regarding Covid limitations, so make sure you are aware of them, and let all your guests know, as well.

The health and safety of you and your guests should be the first priority. Make sure that you follow the regulations and keep your family members who may be more vulnerable safe.