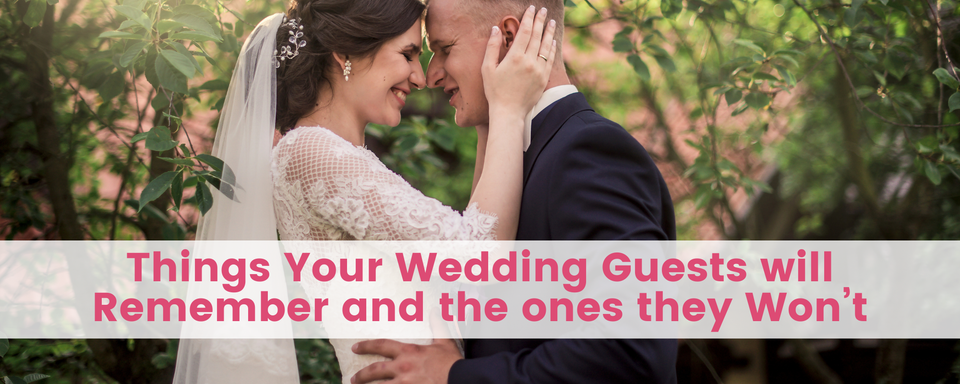 Trying to plan the perfect wedding is an undertaking that all couples attempt, but fail to do. There is no such thing. If you are concerned about what your guests are going to think, stop worrying.

There are going to be things your wedding guests will remember but plenty they won't. Ultimately, you should plan your wedding to impress you and your partner, not anyone else.

Things Your Guests Will Remember

Keep in mind that you can achieve the wedding you want without spending an indecent amount of money.

The Dress

It really is the one thing that tends to steal focus the most. But you don't need a wildly expensive garment to look like a movie star. You already are. There is no such thing as a so-so bride. They are all beautiful.

Get the dress you want, but don't lose sight of the money. You can get the perfect dress without giving up the down payment for your house.

Get it Made

If you know someone who sews or can sew yourself, then get it made. You don't need to go to a fancy bridal boutique to get that done. You likely have a friend or relative who would be happy to oblige.

Buy a Pre-Loved Dress

Only one previous owner. Worn to church, once. Look around at vintage clothing stores, online, or even yard sales, if you must. You can get a beautiful designer gown for a steal and make alterations to make it your own.

Buy Online

You can get pre-made or custom-made dresses online. There are reputable companies like Smart Ass Bride that have a lot of beautiful dresses for a fraction of the price. Find one you like and have it altered to suit you.

The Venue

A beautiful venue could be as simple as your own backyard. It's what you do with it. People are mostly interested in you. But the right venue can make your wedding that much more special.

Besides being nice to look at, it should be comfortable, able to accommodate everyone, and be easy to get to. There should be facilities for all your needs, like kitchen, band, kid's area, and weather appropriate.

The Ceremony

You want to express yourselves honestly and beautifully. You also want to keep it snappy. Don't feel you need to recite old poems and list why they are the perfect mate.

Speak clearly and give it just the right amount of emotion. Don't get too sappy and make grandma squirm. Elderly people, people with kids, and anyone not directly related to you want you to get on with it so they can hit the bar.

Things Your Guest Won't Remember 

When you start planning your wedding, you want everything to be perfect. But, after a few months, you will be looking to elope.

Stationary

No one cares about your invitations. Most will end up as a coaster under their drink, used to jot down a grocery list, or used to get the phone number of your single sister or bridesmaid. Skip it altogether if you like.

We are in LOVE with the idea of going digital on your wedding invitations, not only are they just as stylish, it's easy for your guests to quickly RSVP, making that a breeze for you to track.  Check out Green Envelope and find the perfect and affordable digital wedding invitations.

Your Cake

A lot of time, money, and effort goes into a wedding cake, but what is the point? There may be a moment of 'aahhhs' when you do the big reveal, but then what. You cut it and then shove it in your beloved's face.

Get a nice cake that people can eat and use it as part of the wedding meal or after. People will remember how good it was, but they won't care much about the intricate details.

The Flowers

Your bouquet, the centrepieces, the decorations, don't waste your money. Even if they are nice and people can take them home, they will be dead before long, and long forgotten.

Use fresh flowers in season for your bouquet and find something useful for the tables. We are fond of buying your flowers wholesale from online distributors like Fifty Flowers.  Save even more if you create your bouquets yourself.

Something edible or disposable is perfect and won't break your budget. People will appreciate the simplicity and practicability of it.

It's Your Day

Ultimately, it's only the two of you that need to be impressed. Choose the things you want, keep your money for something more practical, and just enjoy the day.