Thank you for Entering to Win a Portable Steamer from Smarter Bridal! 
Your entry has been counted!

Winners will be contacted via email by Saturday November, 18.
By entering, you get:
$150

*

OFF your Custom Design Fee by booking a Consult BELOW before 01/31/2024
* Conditions apply, contact for details.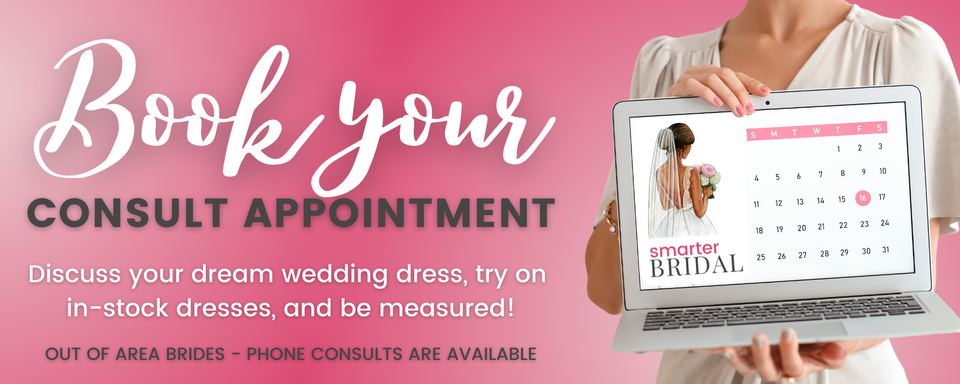 Save $150 OFF your Custom Design Fee by booking a Consult before 01/31/2024
Visit our small in-home studio located in Pflugerville TX.   Please note that our space is small and we can only accommodate the bride +2 for any appointment.  The studio is on the second floor and sadly not wheel chair accessible.  Please contact us if we need to accommodate a wheel chair.



Our expertise lies in the creation of custom wedding dresses. It's important to understand that we operate as an in-home business and therefore have limited inventory, consisting of only a few dresses at a time.

However we would like to point out that we have found we are not a great starting place for finding your dream wedding dress.

At this time we only take consults with brides who have a fairly clear idea of what they are looking for in a wedding dress and unable to find it by other means (either because of price point of a wedding dress or it just doesn't exist)


During your scheduled appointment, we will discuss your preferences and desires for your dream wedding dress and answer any questions you may have. This casual meeting will provide you with an opportunity to familiarize yourself with our business and explore the quality of dresses we offer. We will also begin the process of discussing and deciding on your dream wedding dress. While at our studio, you are welcome to try any dress on we have in-stock.

To refine your vision, most of the communication will take place via email. We will collaborate by exchanging photos, ensuring that we align with your expectations. As part of our service, each of our custom wedding dresses comes with a fashion sketch. Additionally, our skilled seamstresses will share images of your dress's paper pattern and lace patterns for your approval, or in the event adjustments are necessary.

Having us measure you is optional - we will collect the $35 from you at the time of appointment.

If you plan to have your measurements taken please come with a non-padded bra, and tight fitting clothes to get the most accurate measurements.

We will take your custom measurements and provide you with a copy should you decide to go somewhere else for your wedding dress. If you decide on a dress with us we will credit the amount paid to your final cost of your wedding dress.