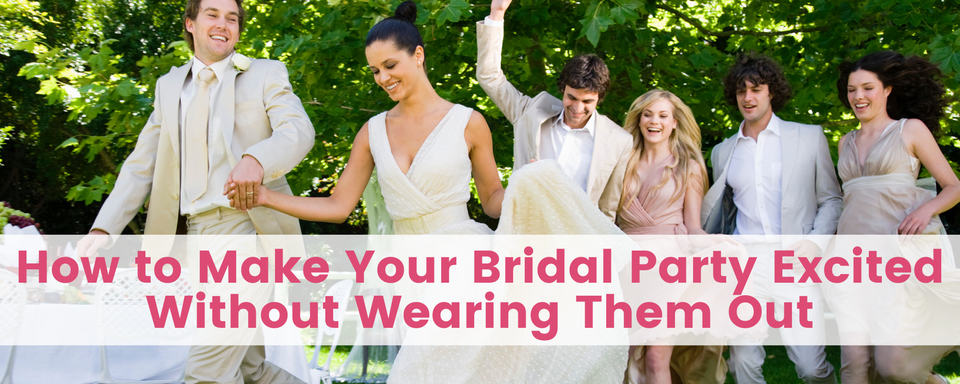 Planning a wedding can be stressful. There's a lot to do between the invitations, the cake, and the seating arrangements. But one of the most important things to consider is how to make your bridal party excited without wearing them out. Here are some tips that should help.

1) Plan Fun Activities

One great way to get your bridal party pumped up is to plan some fun activities for them. Whether going out for dinner or hitting the casino, make sure everyone has a good time. If you have a few early mornings ahead of you, consider having a slumber party. You can even plan a spa day for everyone. Not only will they be physically rejuvenated, but the social bonding can boost morale before the big day.

2) Keep Them Informed

When it comes to the bridal party, honesty is the best policy. They're going to hear a ton of crazy rumors about your wedding, so make sure you're the one telling them what's really planned. And if they ask about something specific that hasn't been covered yet, answer honestly and let them know when more information will be available.

3) Avoid Putting Them to Work

Some brides are tempted to have their bridal party do all kinds of work on the wedding day. While it's perfectly understandable, you should avoid putting them to work unless they want to help. If they don't, let them know what will be expected to make an informed decision about whether or not it fits into their vacation plans.

4) Let Them Have a Little Fun

One of the biggest mistakes brides make is taking themselves too seriously. Relax and let your bridal party have a little fun. You're going to be married soon, so what's the harm? This will bring them closer to you, and they'll feel more comfortable celebrating your wedding.

5) Get Them Involved in the Planning Process

Some may think this is a mistake, but we disagree. Getting your bridal party involved in the planning process can be a lot of fun, and it will bring them closer to you. Plus, they'll feel like they're an essential part of your big day instead of just some random person standing up there with you.

6) Be Budget-Friendly

Above all else, you want to make sure the bridal party is excited without wearing them out. To do this, you'll need to be budget-friendly. Many times when planning a wedding, whether it's for themselves or a loved one, people tend to go overboard and spend way more than they should. This can be very stressful on the bridal party, especially if you're asking them to pay for part of it.

Consider how much it will cost them before asking someone to be a part of your bridal party. Then think about whether or not they can afford it. If so, ask them to join! If not, have another friend in mind who will gladly join.

7) Don't Play Favorites

This is one of the most stressful things that can happen to your bridal party. If you show favoritism, it will cause tension and hurt feelings. You may end up losing more than you gain by this, so make sure everyone feels equally valued. Avoid taking friends on special trips or outings without including others. Make sure no jealousy or negativity is bubbling under the surface. You want everyone to remain on good terms, so everything goes smoothly.

8) Don't Overdo It

At the end of the day, you don't want to wear out your bridal party. Sometimes people think that if they go all out and give them a wild time, it will help them bond or appreciate their presence. Unfortunately, this is a huge mistake, and you should avoid it at all costs. If they want to go out and party with you on the wedding night, that's fine. Just make sure everything else has been casual and low-key so they can relax and enjoy themselves.

9) Don't Neglect Other People

It's easy to get so wrapped up in making the bridal party happy that you forget about everybody else. While your bridal party is important, don't neglect the rest of your guests. Treat them equally and make sure they're just as happy as your bridal party. Show them appreciation throughout the planning process so they feel like they're a big part of everything.

The most important thing is to have fun! If you're stressing out, so are they. Try your best to keep them excited without wearing them out, and your wedding day will be perfect! Good luck!