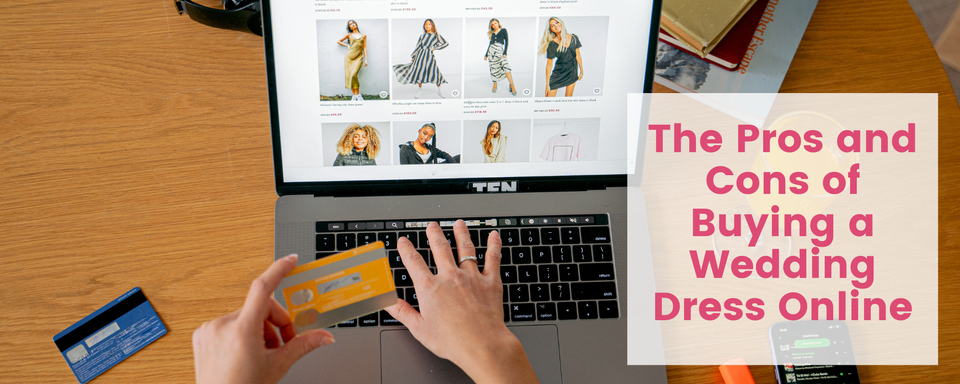 When it comes to shopping for a wedding dress, there are more options than ever before. While brides used to be limited to local bridal shops, now it's possible to shop for gowns online from all around the world. But is buying a wedding dress online a good idea? Here are the pros and cons to consider and what Smarter Bridal is doing to make buying your wedding dress online a GREAT choice.

Possible Pros
Convenience
One of the main advantages of buying a wedding dress online is convenience. You can browse dresses from the comfort of your own home, without having to set aside an entire day to visit multiple bridal boutiques. This can be especially helpful for brides with busy schedules or those who live in more remote areas.

Lower Cost
Wedding dresses can be expensive, and one of the benefits of shopping online is that you may be able to find lower prices. Many online retailers offer dresses at a discount compared to traditional bridal boutiques. Additionally, since you're not paying for the markup that comes with physical retail locations, you can save money on your dress.

More Options
Online retailers are not limited by physical space in the same way that brick-and-mortar stores are. This means that you'll have access to a wider variety of dresses online than you might in a local boutique. You can also search for specific styles or designers that may not be available in your area.

Customization
Some online retailers offer customization options, allowing you to tailor the dress to your exact specifications. This can include changes to the length, color, neckline, and more. If you have a specific vision for your wedding dress, shopping online can give you more control over the final product.

Possible Cons
Sizing Issues
One of the biggest drawbacks to buying a wedding dress online is that it can be difficult to determine the correct size. Unlike in a physical store, you can't try on dresses before purchasing them online. This means that you may end up with a dress that doesn't fit as well as you expected. Some online retailers offer measurement guides and size charts to help with sizing, but this can still be a gamble.  Smarter Bridal's wedding dresses are created to your measurements, so you get an amazing fit. Plus, our in-studio measurements ensure a stress-free experience.

Quality Concerns
Another potential issue with buying a wedding dress online is quality. While many online retailers sell high-quality dresses, there are also plenty of cheap knockoffs out there. It can be difficult to determine the quality of a dress based on online photos alone. Additionally, if you receive the dress and find that it's not up to your standards, returning it or getting a refund may be difficult.  At Smarter Bridal, we are proud to offer our clients the peace of mind that comes with our 100% money-back quality guarantee. Our stunning dresses undergo rigorous quality checks to ensure that they are nothing short of exceptional.

Shipping Time and Costs
Shipping times for wedding dresses can vary widely depending on the retailer and where the dress is coming from. If you're ordering from an international seller, it can take weeks or even months for your dress to arrive. Additionally, shipping costs can be quite high, especially if you're ordering a bulky or heavy item like a wedding dress.  Smarter Bridal offers FREE shipping and we are always upfront on the estimated arrival date of your wedding dress.

No In-Person Interaction
When you buy a wedding dress in person, you have the benefit of interacting with a knowledgeable salesperson who can help guide you through the process. This is not the case when shopping online. While some retailers offer customer service via phone or chat, it can be more difficult to get personalized attention and advice.  Smarter Bridal provides personalized in-person consultations to offer a customer experience that stands out from the crowd - a crucial difference that sets us apart from the rest. 

Alterations Can Be Tricky
If your dress needs alterations, it can be more difficult to get them done when you buy online. You may need to find a local tailor or seamstress to make adjustments, which can add extra time and cost to the process. Additionally, if the dress doesn't fit quite right, it can be more difficult to make changes remotely than it would be in person.  Smarter Bridal offers wedding dresses tailored to your custom measurements, avoiding unnecessary alteration costs. We are delighted to connect you with local seamstresses for any adjustments you require.

In conclusion, buying a wedding dress online can be a good option for some brides, but it's important to weigh the pros and cons before making a decision. If you're considering purchasing your dress online, make sure to do your research first and read reviews from other brides who have gone through the process. With careful planning, you can find the perfect dress for your big day, whether you buy it online or in person.