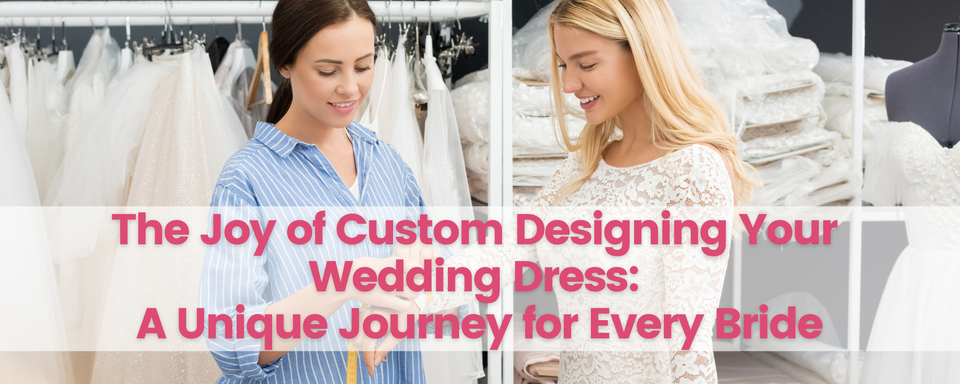 Every bride dreams of walking down the aisle in a dress that is nothing short of perfection. But what if that dress was more than just perfect? What if it was unique, a one-of-a-kind piece designed exclusively for you? This is the magic of custom-designing your wedding dress.
The Thrill of Personalization
Embarking on the journey of personalizing your own wedding dress is an exciting journey. This process allows you to infuse your personal style, ideas, and dreams into all aspects of your wedding dress. From selecting the fabric and silhouette to deciding on intricate details like lace patterns, beadwork, or embroidery, every decision is yours to make.
An Unparalleled Experience
The journey of custom designing your wedding dress is an experience of a lifetime. Collaborating with our skilled designers and seamstresses, you witness your unique vision evolve into a tangible reality, truly bringing your dream wedding dress to life. Each step of the process becomes a special moment, a step closer to seeing your dream dress come to life.
The Joy of Originality
When you custom design your wedding dress, you're not just choosing any dress. You're choosing your wedding dress to be a piece of art that tells your story. There is an indescribable joy in the realization that your wedding dress is truly one-of-a-kind. It bears a design that has never been seen before and was made just for you.
The Perfect Fit
One of the most advantageous features of a custom-designed dress is undoubtedly the custom fit it offers. Unlike off-the-rack options, a custom gown is meticulously crafted to your measurements, guaranteeing not only a flawless fit but also unmatched comfort.  With its tailored design and careful attention to detail, a custom dress ensures you look and feel your absolute best. From a practical standpoint, opting for a custom-made wedding dress tailored to your measurements can help you avoid costly alteration expenses.
Making Memories
Creating a custom wedding dress will become an unforgettable part of your wedding day. From the initial sketches to the final fitting, each step is a special memory that adds to the magic of your wedding journey and big day.
Custom designing your wedding dress is more than just about creating a bespoke piece. It's about the thrill of personalization, the joy of originality, the comfort of a perfect fit, and the memories made along the way. It's about embarking on a unique journey culminates in a piece that's not just worn, but cherished for a lifetime.
So, for all the brides-to-be dreaming of a one-of-a-kind gown for their special day, consider the exciting journey of custom designing your wedding dress with
Smarter Bridal
. Nothing compares to the feeling of saying 'I do' in a dress that is truly, uniquely you.