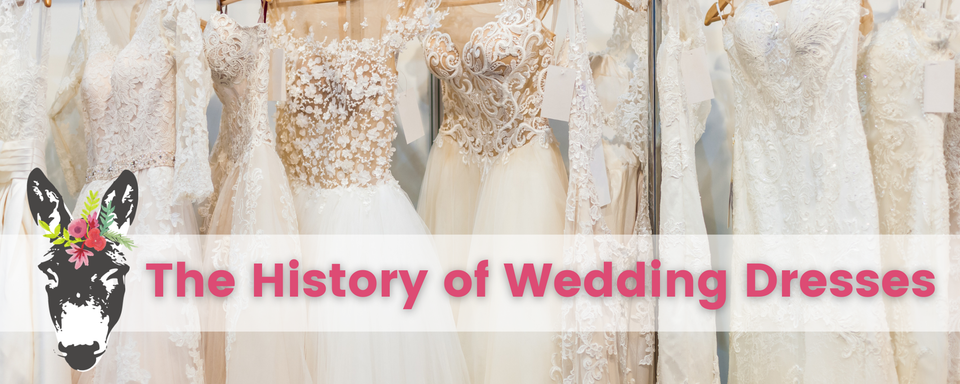 ** As small business owners one way we are able to suppliment income and keep wedding dress costs low for our brides is using affiliate links in our blog and website.  We may make a small percent of your purchase from merchants listed on our website.  However you will never pay more for the product/services!
February 1, 2020
History of Wedding Dresses: How They Evolved Over Time
Though it may seem like brides have always worn white to weddings, this is not the case. Since the Victorian era, wedding dresses in all white have been worn by royalty. In the past, brides wore their most beautiful dresses. Depending on a woman's social status, the color and material of her dress varied.

Wedding Dress History Timeline
The brides have always worn their best for such an occasion, no matter the color or style: high-ranking royals and social elites dressed in the latest fashions and spared no expense. People with limited means still treated weddings as special occasions and dressed formally as their budgets permit.

Ancient Times and World Traditions
Historically, many weddings have been commercial unions rather than unions based on love. It is possible that ancient brides still chose to wear brightly colored wedding garments to symbolize their happiness. Roman brides and grooms regarded the marriage kiss as legally binding and accepted their relationship. It is impossible to know what all ancient wedding dress traditions looked like, but the garments and colors differed by culture. For example:

Brides wore yellow veils in ancient Rome to symbolize warmth and represent them as a torch.

Brides in ancient Athens likely wore long robes in shades of red or violet.

Chinese bridal garments were black with red trim during the Zhou Dynasty (c. 1046-256 BCE). China's Tang Dynasty (618 to 906 A.D.) saw less strict clothing regulations, which led to brides wearing green garments during the Han period (approximately 618 to 906 A.D.).

The bride of a traditional Japanese wedding usually wears several different kimono colors.

As part of the wedding tradition in Korea, the bride wore clothing emulating royalty, which may have included an elaborate silk top with multiple colors such as blue, red, and yellow.
Medieval Times

It was still more than just the union of two people during Medieval times (5th to 15th centuries). This spelled out the union of two families, a business, or even a country. Marriages were often arranged and more of a political affair than a marriage of love. In addition to representing herself, a bride must dress in a way that casts her family in a favorable light.

In medieval times, brides of an elevated social standing wore dresses embellished with gems, vibrant colors, and luxurious fabrics. In the old days, well-off brides wore boldly colored furs, velvets, and silks.

Poorer people wore cheaper fabrics, but they tried to copy the elegant styles as best they could.
Middle-age wedding dresses were available in many shades - blue was a popular choice since it symbolizes purity, but red, yellow, green, or another color was equally popular.

Renaissance Times
The aristocracy set fashion during the Renaissance (from the 14th through 17th centuries; 1558-1603 is the Elizabethan era in England). Typically, women wore the best clothing they could afford, often wearing several layers beneath a principal gown. These gowns would have reflected the elaborate nature of weddings. Renaissance wedding dresses may have also incorporated various aspects of this era, such as:

These were long, flowing dresses that went from the neck or shoulders to the feet, possibly with a train.
Bell-shaped skirts and dresses with corsets.
During this period, brides often chose Burgundy as their wedding color.

Wedding Dress Norms And Social Standing
Brides have dressed according to their social status for centuries, always in the height of fashion, with the finest and boldest materials available.

Victorian Wedding Dresses
In the period before Queen Victoria's reign (1837-1901), white wedding gowns were rare. Women wore a variety of colors, ranging from blue to red, yellow, green, and even grey. There were a few exceptions, like Mary Queen of Scots (who wore a white dress to her wedding in 1558).

A New Trend
This came as no surprise, though, as women of higher social status began wearing white wedding gowns in Europe and America shortly after. Queen Victoria is credited with starting the popularity of the white wedding gown, even though a few other women wore white before her. While other colors were still used in some weddings, white was the predominant color after Queen Victoria's wedding.

Evolution of the White Wedding Dress
White became the new trend once it had been established. Western wedding dresses became more and more white over time, even though styles changed.

The early 1900s
Dress styles with puffed sleeves and a narrow waist were popular in the early 1900s. This timeframe also featured frills, high collars, and long trains.

1910s Dresses
Loose dress styles became popular among brides in the 1910s. The use of corsets decreased during this period, and dancing at weddings became popular. Although the Edwardian Era was marked by lace, ruffles, and high collars, dresses were not as lavish as in the Victorian Era.

1940s Wedding Dresses
In the wake of the Depression, dresses were still practical, reflecting wartime necessities. To save money, dresses sometimes were made from furnishing fabrics in the 1940s.

1960s Wedding Fashion
Column-like styles and rising hemlines characterized this decade in terms of wedding dress styles. Metallics were often included in wedding gowns. Empire waists were beginning to be seen on wedding dresses by the end of the decade.

1970s Bridalwear
As wedding dresses evolved in the 1970s, a bohemian look was a major factor. Several types of details were seen on the dresses, including square necklines, long sleeves, and ruffled skirts. Many of the dresses were made of lace or chiffon.

1980s Wedding Gowns
Wedding dresses of the 1980s featured large puffed sleeves and princess-style gowns. The layering of lace and tulle, as well as the use of taffeta, was very popular.

1990s Bridal Attire
In the 1990s, bridal attire varied a lot, but most dresses tended to be sleek, streamlined styles, which contrasted with the look of the 80s. A lot of dresses had a fitted shape.

2000s Brides
Many dresses were seen in the 2000s, but A-line styles were popular. Strapless dresses became more popular as well.

The 2010s and Beyond
There are more wedding gown variations than the traditional white or off-white gown, and brides continue to personalize their dresses. Dresses with colored accents, blush-colored wedding dresses, and solid-color and patterned styles have been popular this season.

Historic Wedding Dress Influences
It's fascinating to see how historical wedding dresses have evolved. The type of wedding dresses women wore has been heavily influenced by culture, class, and popular norms. Moreover, royals, aristocrats, the wealthy, celebrities, and personal budgets or wealth also impacted how women dressed on their wedding days. As a result, women today can choose dresses that reflect both cultural and time influences and those that are less expensive but still as beautiful as high-end designers, authentic vintage dresses, or even informal wedding styles that reflect contemporary expectations for relaxed weddings.