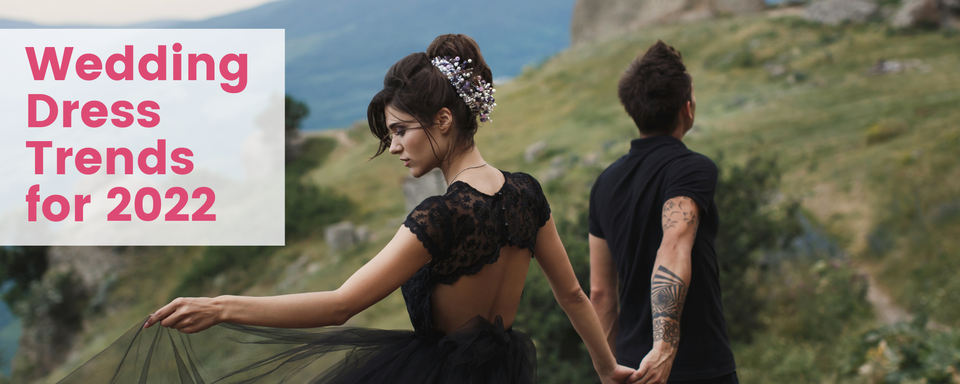 Congratulations, you just received your engagement ring, and you are ready to start planning your dream wedding. We all know one of the most exciting parts of this process is finding the perfect wedding dress or 2.  Perhaps you are like most newly engaged brides, you've been secretly, (or not so secretly) been browsing magazines and blogs dreaming of what you envision walking down the aisle in.  

Long gone are the days of picking a wedding dress with an entourage your only option. Many factors have made this switch, COVID of course but ultimately a large number of brides to be aren't into the whole fanfare, being the center of attention, OR if you are like me, being a plus size bride takes wedding dress shopping to another UNCOMFORTABLE level!

If you've been dress shopping, and plus size, you know what I mean when you feel humiliated as the sales person takes you to the back of the store and says here is the one little rack with dresses that will fit you!  I remember looking through the dresses they had in "my size"...and wondering who in their right mind has decided plus size brides have no fashion sense and could care less what their wedding dress looks like!

2022 is all about Smarter Bridal helping the shy brides, plus size brides and any and all brides who want a wedding dress experience without the critical eye of a large entourage commenting on each and EVERY dress!   How do we solve that?  We take out the parade of dresses, we take out the issue of you finding the PERFECT dress and it's 3x your budget and we take out any and all criticism, you are GORGEOUS and we are excited to help you get a wedding dress that reflects your beauty!

What else has changed in wedding dress shopping?  More and more fiancés are getting involved in the process of helping the bride pick her dress.  We LOVE this for the modern bride.  We also know how to keep secret what dress you traditional brides pick.  When everything is said and done, the real trend, and we're loving it, is DO YOU! Want a black wedding dress?  You got it, we can do that!

Now it is a full-on experience brides share with their loved ones and a whole process. So, let's find out which silhouettes, materials, and textures will mark this wonderful year that wedding experts call the year or future years of weddings.

Multiple looks.
Why wear one wedding dress when you can wear two or even three? Yes, for many brides celebrating their wedding day is on the top of their list of priorities, and since they are the protagonists, why not take part seriously and offer the crowd an entire show with more than one dress? This is especially exciting if you are having trouble choosing one dress or have a vision for your ceremony and formal portraits but need to loosen it up for your dance moves.

The best part of all is you don't need to spend a fortune while having multiple looks on your special day, and you can find many incredible and affordable options buying online. Perhaps you want a classic look for your ceremony but a simple and cute one for your civil ceremony, and it is all possible when you know where to look for them, so browse online and find your multiple looks at an unbeatable price.

Out of the box. 
The fluffy princess dress is not your cup of tea? Well, let us tell you 2022 has plenty of options for the modern bride. You will find a perfect look for your big day, from stylish jumpsuits to short dresses and timeless suits. This year, brides feel free to look exactly how they want, even if it means stepping out of the typical bridal box. We will see two piece sets, crop tops, blazers, capes, and all types of bridal accessories to complement unique and uncommon looks.

High necklines. 
Step away from the plunging neckline, 2022 has brought back high necks, and we love it. Subtle high halter necklines are some of our favorites because they balance visually and add a hint of sexiness without being too much. High neck and long sleeves are other options for brides who tie the knot next winter. High necks look amazing regardless of the fabric you choose. We are certain you can find the perfect match from lace to silk.

Color. 
Many brides don't see themselves wearing an all-time classic white gown. The reasons are diverse, perhaps white is not your favorite color, or you don't see yourself as the traditional bride. Whatever the reason, this year, you can have it your way and look like a bride because wedding gown designers are leaving some room for color within their collections. So choose your favorite; it could be a floral pattern, a light blush, or a full-on sage green, pastel blue, mauve, and even bold colors like black or red.

Volume.  
We know volume does not sound like a fresh idea for bridal fashion because wedding dresses are usually fluffy, but the trend for 2022 has more to do with voluminous sleeves. A mermaid silhouette with ruffles on the lower portion or a full-on ruffle skirt is one option to add volume to your bridal look. Ruffles and puffy sleeves focus on brides who are not afraid of making a statement. And if puffy sleeves are your thing, you can have them with a classic A-line silhouette, a tight trumpet style, or a modern and sleek one.

There you have them, some of the bridal trends 2022 has for you; we hope this year surpasses our expectations and brings amazing weddings to our memories. We are thrilled to know you are looking for the perfect wedding dress and can't wait to help you find it.