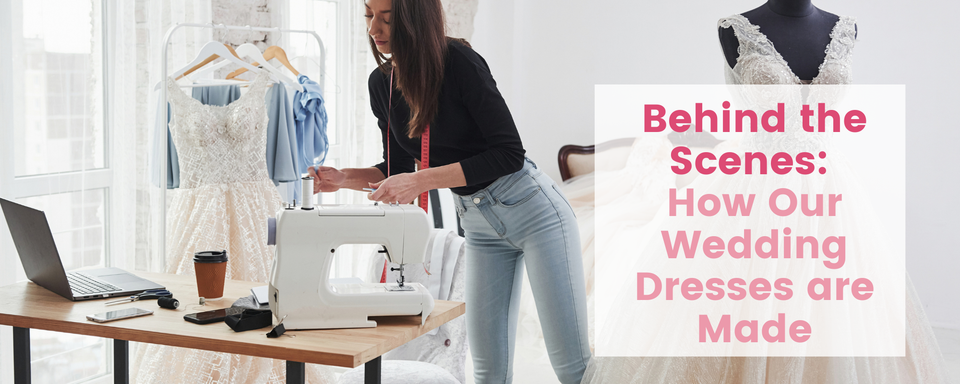 When you slip into a wedding dress on your big day, it's easy to forget about all the hard work and craftsmanship that went into creating that beautiful garment. At Smarter Bridal, we're proud to offer high-quality wedding dresses that are crafted with care and attention to detail. Here's a behind-the-scenes look at how our dresses are made.

Design and Inspiration
The first step in creating a wedding dress is designing the gown itself. Our designers draw inspiration from a variety of sources, including current fashion trends, classic bridal styles, and customer feedback. Once a design has been sketched out, the team can move on to creating a prototype.

Pattern Making
Before a dress can be created, a pattern must be made. This involves creating a blueprint of the dress based on the designer's sketch. The pattern maker carefully measures and marks the fabric, ensuring that each piece will fit together perfectly when sewn. Once the pattern is complete, it's used to cut the fabric for the dress.

Fabric Selection
Choosing the right fabric is an important part of creating a wedding dress. At Smarter Bridal, we use only the highest-quality materials, including silk, lace, tulle, and chiffon. Our fabric experts carefully select each material based on its texture, drape, and overall quality.

Sewing and Construction
Once the fabric has been cut, it's time to start sewing the dress together. Our skilled seamstresses use specialized machines and techniques to create each dress. From delicate lace appliqué to intricate beading, every detail is crafted with care. Throughout the sewing process, multiple fittings and adjustments are made to ensure that the dress fits perfectly.

Embellishments
Many of our wedding dresses feature special embellishments, such as beading, embroidery, or lace. These details are added by hand and require a great deal of skill and precision. Our embellishment experts work carefully to ensure that each detail is perfect.

Quality Control
Before a dress can leave our workshop, it goes through a rigorous quality control process. Each gown is inspected for flaws, loose threads, or other issues that could affect the dress's appearance or durability. Only once the dress has passed our quality control standards is it ready to ship.

Final Thoughts
Creating a wedding dress is a complex and multi-step process that requires a great deal of skill and expertise. At Smarter Bridal, we're proud to offer high-quality gowns that are crafted with care and attention to detail. From the initial design sketches to the final quality control check, every step of the process is focused on creating a dress that will make our brides feel beautiful and confident on their big day.

In conclusion, we hope this behind-the-scenes look at how our wedding dresses are made has given you a greater appreciation for the craftsmanship and artistry that goes into creating these beautiful garments. If you're in search of the perfect wedding dress, we invite you to browse our collection and find the gown of your dreams.