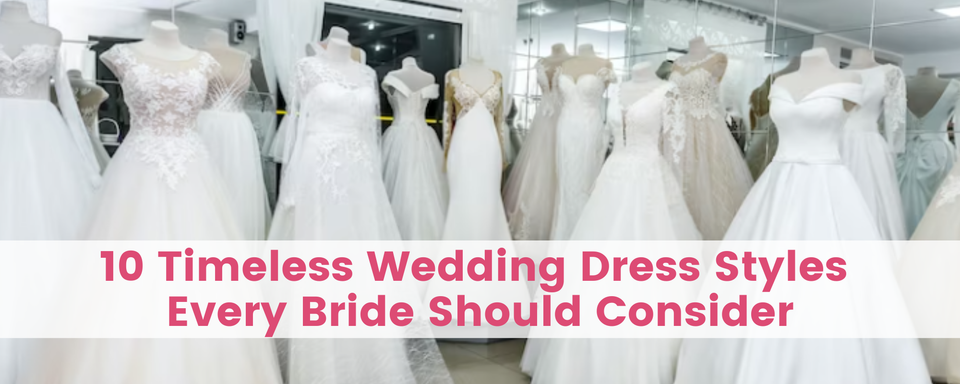 When it comes to choosing a wedding dress, there are seemingly endless options. From boho-inspired gowns to sleek modern designs, the choices can be overwhelming. However, if you're looking for a dress that will stand the test of time and still look beautiful in photos decades from now, there are certain classic styles that never go out of fashion. Here are 10 timeless wedding dress styles every bride should consider.

A-Line
The A-line silhouette is perhaps the most universally flattering wedding dress style. Featuring a fitted bodice that gently flares out from the waist, an A-line gown is elegant and sophisticated without being too fussy. This style works well for all body types and can be dressed up or down depending on the bride's personal style.

Ballgown
For brides who want to feel like a true princess on their wedding day, a ballgown is the perfect pick. With a full, voluminous skirt and fitted bodice, this style is dramatic and romantic. Keep in mind that ballgowns can be heavy and may require extra support, so make sure your venue and wedding day activities are suitable for such a dress.

Mermaid
Mermaid-style dresses are fitted through the bodice and hips, then flare out dramatically at the bottom. This style is particularly flattering for brides with hourglass figures and can create a stunning, statuesque effect. Be aware that mermaid dresses can be difficult to move around in, however, so be sure to practice walking and sitting in your dress before the big day.

Sheath
If you prefer a more streamlined look, a sheath dress might be right up your alley. This style hugs the body from top to bottom, skimming over curves without adding too much volume. Sheath dresses are often made with lightweight, flowy fabrics that create a soft, romantic look.

Tea-Length
Tea-length dresses are perfect for brides who want a retro-inspired look. Falling mid-calf or just above the ankle, this style is playful and fun, while still being elegant enough for a wedding. Tea-length dresses can come in a variety of silhouettes, so you can choose one that flatters your figure.

Trumpet
The trumpet silhouette is similar to the mermaid style but with a more subtle flare at the bottom. This style is particularly popular for beach weddings, as it creates a breezy, relaxed vibe. Trumpet dresses also work well for brides who want to show off their curves without going full-on mermaid.

Empire
Empire waist dresses feature a raised waistline that falls just below the bust. From there, the fabric flows down into a loose, flowing skirt. This style is perfect for boho-inspired weddings and works well for pregnant brides or those who want to disguise their stomach area.

Off-the-Shoulder
Off-the-shoulder dresses are romantic and feminine, perfect for brides who want to show off their décolletage. This style can be incorporated into many different dress silhouettes, from A-line to mermaid to ballgown. Just make sure you choose a dress with enough support to keep the sleeves in place all day.

Halter
Halter dresses are perfect for brides who want to draw attention to their shoulders and arms. This style features a high neck that wraps around the back of the neck, leaving the shoulders and upper arms bare. Halter dresses work well for outdoor weddings or ceremonies in warm climates.

Strapless
Perhaps the most classic wedding dress style, strapless dresses are elegant and timeless. This style works well for brides with hourglass figures or those who want to show off their arms and shoulders. If you're worried about the dress slipping down, choose a style with a corseted bodice or built-in bra.

When it comes to choosing a wedding dress, there's no one-size-fits-all solution. However, by considering these 10 timeless styles, you're sure to find a gown that makes you feel beautiful and confident on your big day.